Gerald Levert passed away over night in his sleep it looks like a heart attack.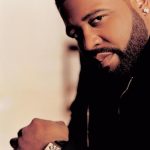 Biography:
A contemporary soul singer whose smooth, yet robust vocals bring energy and emotion to even his most serene recordings, Gerald LeVert grew up in the shadows of his father, Eddie LeVert Sr. of the O'Jays. As a child, his father's status in the music industry nurtured and helped prepare Gerald for his prosperous music career as a writer, arranger, producer and performer. As Gerald was entering his adulthood, he, good friend Marc Gordon and his brother Sean formed the trio LeVert. They recorded their first single, entitled "I'm Still," on the independent Tempre label. Even though Gerald was still maturing as a vocalist, his powerful, stirring delivery on the single is worthy of praise. Peaking on the Billboard RB charts at number 70, it survived for eight weeks.

Nonetheless, that single set up a deal with Atlantic Records the following year, and it could not have been a better move. Initially, Gerald recorded with the group, scoring five number one singles, seven Top Ten singles and four Top 20 singles on the Billboard RB charts, including the Reggie and Vincent Calloway-written and produced number one single "Casanova," which also peaked at number four on the Billboard pop charts. He also managed to make room for a duet with labelmate Miki Howard, recording the number four single "That's What Love Is."

In 1991, Gerald released his solo debut album, entitled Private Line. The title track spawned his first number one single as a solo artist on the Billboard RB charts. The following year, Gerald came back with a duet with his father and scored another number one single with "Baby Hold on to Me" and the number three single "School Me," reminiscent of Babyface's "Whip Appeal." However, in the midst of all his success, Gerald's only major pop appeal remained the "Casanova" single.

Pop producer David Foster presented a pop tune to Gerald, and "I Swear" became a number one and Top 20 hit on the pop and RB charts, respectively. Subsequently, Gerald returned to Foster's stable to record "I'd Give Anything," also produced by Foster. Formerly a number four country hit for Boy Howdy under the title "She'd Give Anything," Gerald's version managed a pop Top 30 hit. Intended for crossover appeal, the single was actually a bigger hit on the RB charts, peaking at number four and reinforcing Gerald's major following among RB music lovers.

In addition to his impressive string of hits, the Cleveland, Ohio, native has rendered his services as songwriter, vocalist and producer to many artists, such as the O'Jays, Barry White, Stephanie Mills, Troop, Teddy Pendergrass, the Winans, Patti Labelle, Rude Boys, and on and on. In 1997, Gerald added another dimension to his prosperous career; he joined forces with RB vocalists Keith Sweat and Johnny Gill under the acronym LSG, spawning the hit single "My Body." As a solo act, he released Love Consequences the year following, returning in 1999 with G. He continued to be extremely productive throughout the early 2000s, releasing the albums Gerald's World, G Spot, Stroke of Genius and Do I Speak for the World before 2005. A compilation of duets, Voices, was issued in 2005.