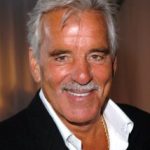 Dennis Farina is an American actor of film and television and former Chicago police officer. He is a character actor, often typecast as a mobster or police officer. Farina is a Hollywood legend — who appeared in tons of classic films and TV shows including "Get Shorty," "Snatch" and "Midnight Run." He also appeared in HBO's series "Luck.". Farina — who was born in Chicago in 1944 — is survived by his 3 adult children from his marriage to Patricia Farina. They divorced in 1980.  He also has two granddaughters and four grandsons.
Farina's rep says the actor is also survived by "the love of his life of 35 years, Marianne Cahill." It doesn't appear the two were ever married.
Before he became an actor, Farina was a cop with the Chicago Police Department from 1967 to 1985.
[embedplusvideo height="281″ width="450″ editlink="http://bit.ly/161oE4w" standard="http://www.youtube.com/v/RD6BaHKMTXk?fs=1″ vars="ytid=RD6BaHKMTXk&width=450&height=281&start=&stop=&rs=w&hd=0&autoplay=0&react=1&chapters=&notes=" id="ep9335″ /]